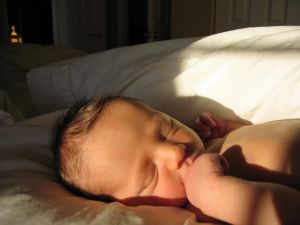 When I was very young, I thought Blessings only revolved around my faith and it was the clergy's job to Bless.  I'd bow my head and receive a Blessing.  I loved to be in a church service when a new baby was blessed.  I could tap into this incredible feeling of wonder and joy.  Many times I could not express my feelings when a Blessing was given.
Another childhood memory is my Dad saying grace before dinner.  It always felt special to take that moment, put our hands together and bow our heads.  Our family now seems to only bless their meal at a family gathering.   A funny remembrance around blessings was my maternal Grandmother saying Gesundheit when we sneezed.  At the time we had no idea it meant "bless you" and we certainly didn't know how to spell the word.
As a child, when someone said "bless you", or "bless your heart" to me, I felt like I was special and that I was good.  It all seemed to revolve around our faith.  Of course, all bets were off, when we ran out the door to play.
Did you have family traditions or celebrations involving Blessings?
Leave a comment to be entered into a daily drawing for 2 heart tags; one for you and one for a friend.