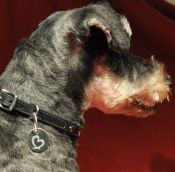 Dogs, cats, horses and all animals can benefit from Blessings.  They do not know what a blessing is but they do know what they are feeling because it creates a vibration and everything is vibration.  If what we are doing for them or to them is a decision we have made from our heart, it feels better to them.
If we are trying to push them into change, trying to force our agenda on them, then it doesn't feel good to them. Whatever we are trying to do will more than likely not benefit them.  They have an innate sense of energy or vibration and many times are able to block what seems too pushy.  It is far better to take things slowly.
Animals have this other amazing ability; that of mirroring and magnifying their owner or the situation.  I find if I look at myself, I will see a similar symptom occurring between my animal and myself.  For five years I worked closely with a gifted animal communicator, Sandy Lagno.  I published her book or as she says, "the horse's book", Horses:  From Our Side of the Fence, http://sandylagno.com/.  The concepts I talk about here are from the work we did and are expanded upon in the book.
The stainless steel heart or Blessing charm creates a positive vibration.  My dog, Joy, wears her Blessing charm on her collar.  It reminds me that she is a Blessing in my life.  It also reminds me to stay positive and allow her to take her journey. Same for my horse Pete; he wears a charm on his halter.  I am blessed I have Pete to ride and he is blessed to have such a wonderful setting in which to be a horse.