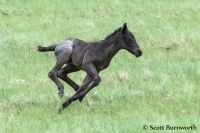 I think it was Dolly Parton that said, "We cannot direct the wind, but we can adjust the sails."  After more than a week of wind, including 3 days where it clocked over 95 MPH, I was more than ready for it to stop.  The forecast had been for calmer days last Thurs-Sat. but it didn't happen.  It was warm and windy, as in over 50 MPH.  Now I don't like to do anything in the wind, except sail and that's not going to happen on this prairie. 
Sunday 5am, I awoke and it was quiet.  Could it be 4 MPH and 40 degrees in January in Northern Colorado?  I checked the forecast and the winds weren't supposed to come up until the afternoon.  I was excited to give my two geldings a little exercise.  They have been standing around their hay feeder and not walking any farther than they had to. 
We got out the door about 7:30 and headed for the barn and outdoor arena.  The goal was to direct the boys, off lead, around the arena in a steady pace.  Not chasing them, merely pointing the way and giving them a little push.  Off they went and you could just hear them, "what's going on, why are we working?"  We kept moving them until they were moving easily and then asked then to come back into us, again off lead.  It was beautiful.  We gave them lots of scrunches and let them rest. 
All of a sudden, I realized the wind was blowing.  I hadn't even noticed because I was so involved with the horses.  When I work with them I am totally engrossed so that I am clear in what I am asking them to do.  I had adjusted my sails or in this case my activity and it changed my attitude.  I got back to the house and the weather station read 30 MPH and headed up.  What a great way to start the day.
Photo:  We named this little blue roan AQHA filly Windy.  This photo was taken a few hours after she was born on an extremely windy day.  The wind didn't stop her one bit.