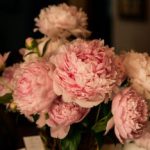 The peonies are blooming and last week a friend brought me a beautiful bouquet from his yard.
The color was a delicate pink and the fragrance divine.  The peonies took me back to my childhood.  Both of my Grandmothers had pink peonies in their yards.  They always had a bouquet in the house and they would always grumble at the ants that would be on the blooms.  They thought the ants helped the flowers to open but the peonies around here do not have ants and they still have beautiful blooms.  Must have been a Midwestern story told to all the children.
 This morning, the peony bouquet looked tired and I decided it was time to throw it out.  Then I caught myself and decided to take them out back and bless the Grandmothers.  As I tossed the spent petals in the air the gentle western breeze lifted them up and over the prairie.  I blessed my Grandmothers, the grandmothers still to come, and the grandmothers of eons ago.  Still not complete I blessed the Grandmother of all grandmothers.  And least but not last, I blessed my Mother for being such a wonderful Grandmother and great Grandmother and I blessed myself for the blessing of my grandchildren.  My heart felt full of love as I thought of them on this beautiful morning.