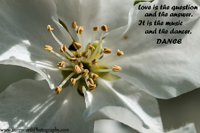 I recently consulted with a friend and marketing expert.  He said, "Cheryl everything you are involved in is connected by and with love.  Your family, animals, work, friends, the beauty of the landscape and your country.  You wouldn't be so vested if you didn't come from that place of love."
And he is right.  I come from the heart in my daily life with the activities that present themselves.  I use to be very mental and I still can be.  I love to solve mathematical puzzles on an excel sheet.  The animals taught me to connect to my heart is everything I do, no matter the emotion I am showing.  If you come from the heart there can be no wrong is what you are attempting to do.
Love creates the music, the dancer and the audience.  It connects us with the beauty we are feeling.