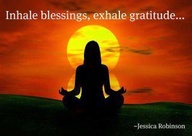 Have you ever experienced a noticeable change after sending a Blessing?  I have a few times and one in particular stands out.  This young man working for me had a real chip on his shoulder.  I silently sent him a Blessing.  When I returned several minutes later, he was very courteous and offered to assist me in any way possible with the work at hand.
Most the time I don't experience the "change".  I only know for sure that I feel better having done my part by offering a Blessing.  I truly believe we can change the situation for the best if we bless.  Notice, I didn't say better.  I don't know what is better for me or for someone else.  I have no idea what we are meant to experience in this lifetime.  I do know I can offer a place in my heart that allows the best to come forth.  That is my responsibility.  By doing this I avoid judging the situation and simply offer sincere kindness.
What changes, if any, have you experienced after you sent a Blessing?
Leave a comment to be entered into a daily drawing for 2 heart tags; one for you and one for a friend.