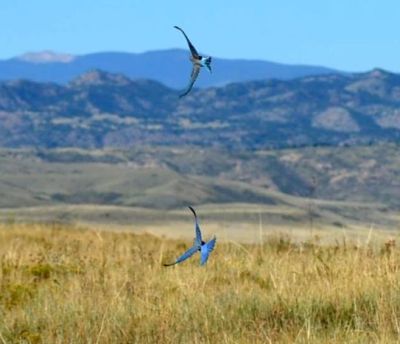 Have you noticed?  The birds came back this last week; those that stay the entire summer and those that are migrating through.  They have arrived early due to our unusual warm weather.  Just this last week, I've seen bluebirds, red-winged blackbirds, mallards, meadowlarks, red-tailed hawks, and soaring turkey vultures.
It's been amazing and such a blessing to watch them and listen to their songs.  When I first heard the red-wing, I thought I was imagining the song.  It's very distinctive as is the song of the meadowlark.  The mountain bluebirds are migrating up to the mountains and can be seen in the foothills, sometimes for the entire summer.  Many residents have nailed nest boxes to the fence posts so that the bluebirds have more nesting places.  I love this quote:  "The bluebird carries the sky on his back".
So enjoy and bless these beautiful creatures and their arrival as the first sign of spring.  Let me know what other birds you noticed this last week.